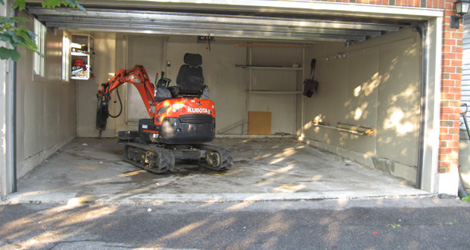 When is the last time you took a look at your garage floor? If you've been in your home for a number of years you may have a variety of cracks, or worse your garage floor could be heaving or severely uneven. You may have tried to fix your garage floor using sealing and filler kits, which are simply band aids, not real fixes.
At Foundation Service Ottawa, we can come to your home and remove your existing concrete garage floor and replace it with a brand new garage floor that is safe and will be something that you can actually be proud of as opposed to what you had before. We're committed to providing the highest level of concrete services, while always standing behind our work with an ironclad warranty.
Garage Floor Replacement or Repair
Depending on the severity of the damage to your garage floor you may need either a basic repair or replacement. When you're dealing with garage floor replacement it's important to choose a company with experience in removing large amounts of concrete in small areas and not disrupting other areas of your home such as your foundation. We've replaced garage floors all over the Ottawa area and feel confident that whether you need a basic garage floor repair or full replacement, we're up to the task.
When we finish you'll be looking for ways to utilize your garage to do much more than just house your cars. In fact, you may end up turning your garage into an entertaining space for family and friends.
Professional Workmanship Means Quality Products
A garage floor may seem like a simple project to complete. There are, however, many problems that can cause a garage floor not to perform to your expectations.
The base of the garage floor must be properly prepped. This means digging the correct depth below the garage floor, using the correct stones and compacting ratio to reduce settling. Also, using the right concrete mix is important.When pouring the garage floor a reinforcing wire mesh or fiber mesh must be added to the concrete to increase the strength of the concrete. Installing the reinforcing metal mesh or fiber mesh must be done to a standard that ensures that it is not susceptible to corrosion or water infiltration.
At Foundation Service Ottawa, our professionals know how to get the job done right the first time.
For more information on our services, don't hesitate to contact
our team today at 613-252-4051.
Contact Us