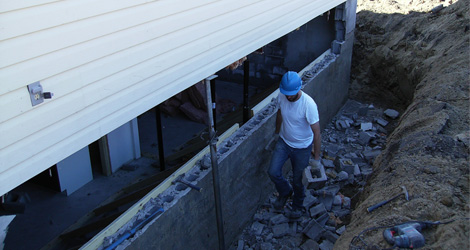 The structural integrity of a building ensures its durability. So, if there are structural damages to the foundation, you should not ignore it. It is important to call an expert contractor who has a wide knowledge of repairing structural damages.Foundation Service Ottawa is a reputed name in the field of structural and foundation repairs.
Our team has repaired concrete deterioration caused by several factors such as:
Faulty concrete mix
Damage from chemicals
Damage from shrinkage, settlement and thermal contraction
Freezing and thawing damage
Rebar corrosion, etc.
Why is it Important to repair Structural Damages?
If there are any structural damages in the foundation, they should be immediately repaired. It is because a good and sturdy structure is the back-bone of your property. If it is not strong, it can ruin the entire building and make it unsafe for habitation. Also, a robust concrete structural repair can help you in the following ways:
Correcting construction errors
Restoring the original capacity of the structure before it was damaged
Adding load capacity to concrete structure
Choose Us, Ottawa's favorite Concrete Contractor, for a Strong Foundation
If the foundation of your property is damaged, it is possible to repair it without tearing it down completely. Our team includes qualified structural engineers who will find out the reason for concrete deterioration and suggest concrete repair techniques such as :
Epoxy Injection – Crack is repaired using epoxy under pressure. We clean the crack by drilling into it and flushing out the dirt. Once the surface is dry, we inject the crack with epoxy and seal the crack.
Pouring New Concrete – If the concrete surface is damaged and cannot be repaired by epoxy injection, the deteriorated concrete is removed. Our contractors ensure that the damaged concrete is removed from the surface. We clean the steel of corrosion and pour new concrete.Foundation Service Ottawa is a leading concrete contractor in structural repair and foundation restoration. We have successfully restored the structural integrity of several properties in Ottawa and its surrounding areas.
Contact Foundation Service Ottawa – A Licensed Structural and
Foundation Repair Contractor
Contact Us