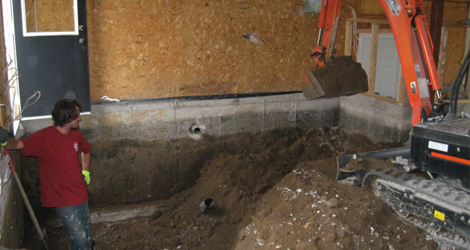 A damp or waterlogged foundation can seriously compromise the structural integrity of your home. Water is the primary cause of most foundation problems, and foundation waterproofing is a critical aspect of building maintenance. Identification of the source of the moisture is important to avoid future flooding and the high cost of repairs that can result.
Why You Might Need Our Basement Underpinning Service
If you already know exactly what you want and are ready to request a quote, please do not hesitate to call 613-890-4051 and talk to a member of our team today. On the other hand, if you are not sure why you might need to have your basement underpinned, take a look at the following examples of situations that we often encounter :
Creating a Full Height Basement – The number one reason that homeowners consider having their basement underpinned is to lower the floor and create a full height room that they can use in the same way as they use the rest of the house. With many basements having low ceilings, around 5ft 6 inches or even less in some cases, it would be difficult to carry out a successful conversion without first lowering the floor. By underpinning the existing footings, we can help you to create a beautiful basement with a full height ceiling, in a safe and controlled manner.
Buildings Constructed with a Weak Foundation – If a building was poorly constructed in the first place, with a weak foundation, basement underpinning is often the most expeditious and cost effective solution. Demolition is usually the only practical alternative but most property owners are understandably keen to avoid taking such drastic action if at all possible. A properly underpinned basement can turn a potentially dangerous structure into one that is completely stable and fit for occupation once more.
Subsidence – In certain situations a perfectly well constructed building can be rendered unsafe by soil movement, whether caused by human actions such as mining or by natural forces. When this happens, it is often possible to remedy the situation by strengthening the foundations. If you are having problems owing to subsidence, please contact us at the earliest possible opportunity so that we can survey your property and advise you of the best course of action to take.
Adding Value to Your Home
If you use our basement underpinning service to create new living space in your home, you can look forward to a significant increase in the value of your property once the work has been completed. This may mean very little to you right now if you have no plans to move but it could mean a lot in the future. Whatever your reasons for wanting to underpin your basement, call us today for a competitive quotation.
Foundation Service Ottawa has the very best basement underpinning
contractors in Ottawa.
Contact Us