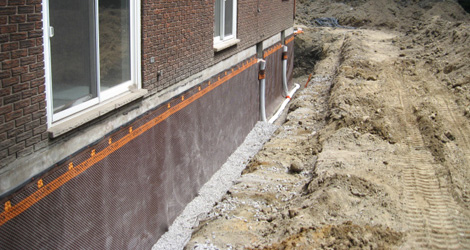 Pools of water can collect behind your foundation walls, in your basement, or against the outside perimeter of your house. When this happens it can cause structural damage, as well as bring harmful and unpleasant damp and mold problems to your life. At Foundation Service Ottawa we can provide a wide range of waterproofing and water control solutions in Ottawa.

We ensure that the weeping tile solution is effectively installed so that all water drains away from leaking walls, from underneath floor tiles, and from anywhere else where it might cause a problem to you and your property. Our contractors can install weeping tiles on either the interior or the exterior of the property.
Interior Weeping Tile Replacement & Installation
Interior weeping tile replacement or installation is a highly cost-effective solution that keeps your basement cozy and dry. Many people choose it because it involves only very light work, and can be achieved on a humble budget. No excavation is required, as is usually the case with exterior weeping tiles.
Interior weeping tiles are also known as internal perimeter drain systems. They manage water that is finding is way into your home via walls, gaps, and cracks, or up through floor slabs.
We will remove stud walls, and dig a small trench around the perimeter of the building. Then we can install the piping in the trench. We drill weep holes in the bottom of the concrete of the walls in order that water can drain out of them and into the system. The drainage is often connected to an underfloor sump pump and discharge pipe. Everything can be concealed under the floor and behind walls, so your basement remains aesthetically pleasing.
Exterior Weeping Tile Replacement & Installation
Many people opt for interior weeping tile solutions because they are more cost-effective, and require less work. However, exterior weeping tile installation comes with added benefits and offers extra protection by helping to prevent water from breaching the exterior of your walls in the first place. Combined with exterior waterproofing, weeping tile installation on the outside of the building gives you the ultimate lifelong solution that will protect your home. The drawback is the price, as exterior solutions require extensive excavations.
We offer both interior and exterior weeping tile installation here at Foundation Service Ottawa, Ottawa. The exterior weeping tile installation procedure is very similar to the interior but is designed to dispose of groundwater that accumulates around the footing of your foundations.
Benefits Of Weeping Tile Installation
Both the interior and exterior solutions have their individual drawbacks and benefits, but both aspire to achieve the same results, which is to keep water out of your basement, stop damage to your foundations, and give you a more pleasant home. Benefits of weeping tile installation include:
Can be a very cost effective solution, especially interior weeping tiles.
Keeps water directed away from your home for life.
Sits under your basement floor, or buried around the outside perimeter, and so does not look out of place.
Relieves hydrostatic pressure, and increases life expectancy of foundations.
Increases the value of your home.
Gives you a nice basement that is free from wet, damp, and mold.
Tile Installation Ottawa
We offer a free consultation so that we can assess your basement, and discuss your options with you. We then offer a no obligation quotation for the work. Contact us today to find out more, or to arrange a consultation.